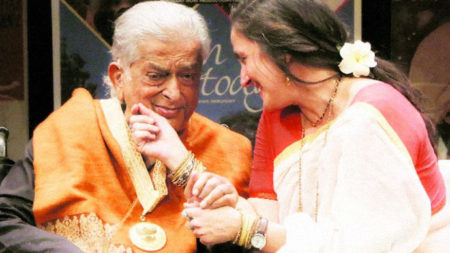 Shashi Kapoor belongs to famous Kapoor family, who had and has been giving remarkable effort for glorious Hindi Cinema.
He was the son of great pioneer of Bollywood Prithvi Raj Kapoor. He had started his filmy career as a child artist during 1940. His work in different movies had established him as a notable actor in the Bollywood. Deewar, Satyam Shivam Sundaram and Kabhi Kabhi are his memorable movies.
भारतीय और अंतर्राष्ट्रीय फिल्मों के लिए सुप्रसिद्ध, अभिनेता शशि कपूर के निधन के बारे में जान कर बहुत दुख हुआ। सार्थक सिनेमा को उनका योगदान और भारतीय रंगमंच को शक्ति देने में उनकी महत्वपूर्ण भूमिका हमेशा याद की जाएगी। उनके परिवार के प्रति मेरी शोक संवेदनाएं —राष्ट्रपति कोविन्द

— President of India (@rashtrapatibhvn) December 4, 2017
Shashi was suffering from severe chest infection and had done bypass surgery. Later he was recovered but unfortunately the condition got worse. And he bid goodbye to everyone on 4th December 2017 at 5.20 pm. He was 79 years old.
The funeral will be held on Tuesday, 5th December 2017.
#RIPShashiKapoor …the most charming and enigmatic actor ever…a gentleman movie star! His legacy in film and theatre is exceptional…thoughts and prayers with the family….his work will always live on… pic.twitter.com/U9jsAGxGET

— Karan Johar (@karanjohar) December 4, 2017