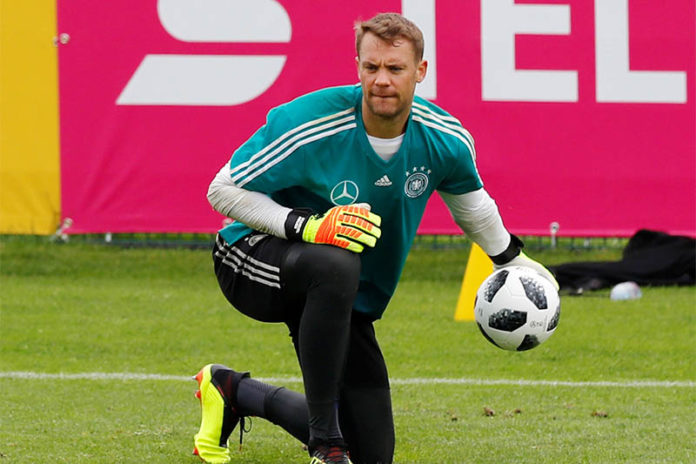 BERLIN: Germany goalkeeper Manuel Neuer will make his comeback from a nine-month injury break in Saturday's international against Austria as he races to be fit for next month's World Cup, goalkeeping coach Andreas Koepke said on Tuesday.
World Cup winner Neuer, who has been the Germany number one for more than eight years, has not played a single official game since breaking a bone in his foot back in September but Koepke said he was fully on track for the tournament in Russia.
"That's the plan," Koepke told reporters at their training camp in Eppan, northern Italy.
"As things stand now he will play on Saturday. There is nothing in the way and those are the matches he needs. An international against Austria where he will have more to do."
The 32-year-old Germany captain played 30 minutes in their training match against the German Under-20 team on Monday and will again play another 30 minutes when the two sides meet on Wednesday.
The reigning world champions will stay in Italy until June 5, a day after the deadline for the final 23-man squad announcement. Coach Joachim Loew has taken 27 players to the training camp with four facing the cut, including one of four keepers.
"Manuel needs these games after his long injury to be 100 percent fit. It was a basic condition when he came here that he has to shoot out of the blocks," Koepke said.
"From jump strength to mobility there is absolutely no problem whatsoever.
"(It is) Like he was never away. Now it is about reading the game, getting confidence playing the ball with the foot. He is on the road we all imagine and everything seems to be working."
Koepke also hinted a fit Neuer would be their first choice for the tournament ahead of the other three keepers — Kevin Trapp, Marc-Andre ter Stegen and Bernd Leno — Loew has called up in his preliminary squad.
"Marc won the Confederations Cup last year, had a super season at Barcelona and he obviously would like to play at the World Cup," Koepke said.
"But when it comes to Manuel it is a special situation and he (Marc) can handle it very well."
The Germans, who also face Saudi Arabia in Leverkusen on June 8 in their final warm-up match, are in World Cup Group F with Sweden, South Korea and Mexico. The tournament starts on June 14.