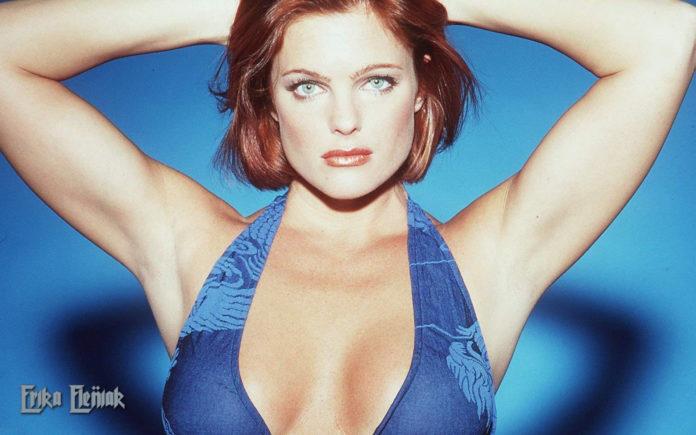 Who is Erika Eleniak ?
Erika Maya Eleniak was born on September 29, 1969 in the Los Angeles suburb of Glendale, California.
She is an American actress, Playboy Playmate, and former model best known for her role in Baywatch as Shauni McClain.
She is the eldest daughter in a family of four girls and one boy.
Erika began her acting career at the age of 10, starring in numerous productions for television, film, commercials and theater.
Her film debut was a small part in E.T.: The Extra-Terrestrial (1982). She later starred in the films The Blob, Under Siege and The Beverly Hillbillies.
Erika has dual citizenship with the United States and Canada.
Please check out my beautiful Friends', the Sorbo's Film: https://t.co/PMPfSsXwaj

— Erika Eleniak (@erikaeleniak) October 11, 2017
After six years, she and Roch split up and Erika moved back home to the United States with Indyanna.
Erika has come home to be with her family and surround her young daughter, Indyanna, with loved ones.
Erika resides in the Greater Los Angeles area and is working very hard on her career.
What is Erika Eleniak Net Worth ?
Erika began her acting career at the age of 10, starring in numerous productions for television, film, commercials and theater. Her first film role was in the science fiction blockbuster E.T. the Extra-Terrestrial (1982), by Steven Spielberg.
Her film credit given was "Pretty Girl". Erika was spotted by a talent scout working for Steven Spielberg in a performer's audition showcase.
She is one of the successful personality in Hollywood.
In 2017, her net worth is calculated to be 4 million Dollar.
She has earned this net worth by doing many movies as well as appearing in television series.
Who is Erika Eleniak Dating ?
Erika Eleniak is currently single.
Erika Eleniak was previously married to Roch Daigle (2005 – 2007) and Philip Goglia (1998 – 1999).
Erika Eleniak has been engaged to Billy Warlock (1993 – 1994).
Quick Facts
Born: September 29, 1969 (age 48)
Birth Name: Erika Maya Eleniak
Nick Name: Erika
Birth Place: Glendale, California, U.S.
Nationality: American
Occupation: actress
Years active: 1982, 1988–present
Height: 5′ 6″ (1.68 m)
Weight: 55 Kg
Net Worth: 4 million Dollar
Eye Color: Dark Brown
Hair Color: Brown
Father: Unknown
Mother: Unknown
Siblings: Unknown
Personal Quotes (4)
An actor is like a piece of clay: you just keep moulding me. Even people who work with you every day want to put you in a little box.

I didn't have a pool growing up, and we went to the beach to lay out and get sun.

I love my life. I'm really grateful. My biggest dream come true is my daughter. I've wanted her since I was a little girl.

I liked acting early on, and I really liked roles that were meaningful to me, and 'Baywatch' was.