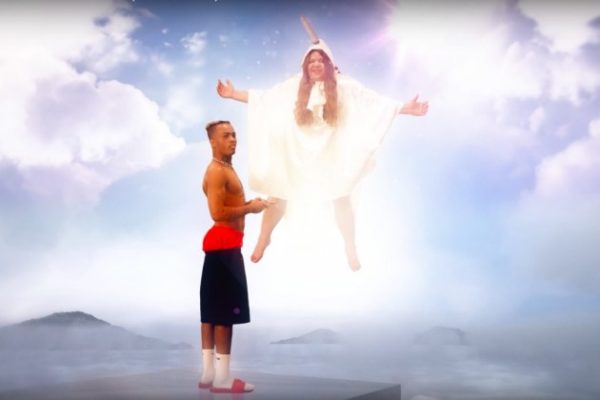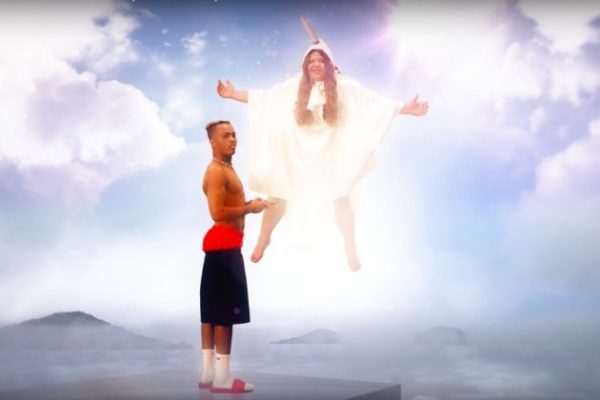 XXXTentacion added to a continual stream of controversy when he released a new video for his platinum-selling breakout single "Look At Me!" earlier this week. In the graphic video, a White child is lynched as a Black boy looks on.
The video is all types of bizarre. It begins with the South Florida rapper talking to a dildo unicorn, before switching to scenes where he reeks havoc in a classroom. In the middle of the new LaShawnna Stanley-directed video, another song begins playing and we see footage of Philando Castile's death at the hands of a police officer. From there, X recreates a riot as shots of himself being lynched appear onscreen.
It's at that point that the controversial scene of X hanging a White child appears onscreen. The kid's legs shake violently for a short period of time before they suddenly go still, with that last image presumably signifying the boy's death. X then gives a lecture about racism and the way all people—Black and White—need to stop creating it by looking into themselves.
Speaking with a Fox News affiliate, Stanley explains it was difficult to find a parent willing to let their child pretend to be hanged—especially with the racial tension that's exploded in the U.S. as of late. After originally finding someone who was willing to put their child in the video, Stanley was forced to reschedule the shoot when the mother changed her mind.
"I called a lot of parents. It was a direct booking. No one was okay with their white child getting lynched," says Stanley, who also explains that X made sure both boys in the video were made to feel comfortable on set. "With all the racial tension in the world right now they were nervous."
Although the video features some disturbing imagery, Stanley says it was meant to send a message about the way White people have been desensitized to violence against Black people. According to her, the White and Black children are meant to symbolize innocence.
Some time after unveiling the "Look At Me" video, XXXTentacion, who recently laughed off domestic abuse allegations, uploaded an Instagram post containing audio of what he claims is a voicemail left by a Ku Klux Klan member. He addressed the audio in the caption.
"Here's a voicemail for me and my partner left by a KKK member, I have a voicemail where he owns up to being a member of the clan but he says information about my partners business location that I do not want public," X says in the caption.
He continues, "However, The video was made to reach these people to show "you" they're response, and it did exactly what it was supposed to,So here my fellow friends and human beings, is a clear threat of murder over an artistic vision, here is the 'role model' supremacists some praise so much, here is the the hate that never stays in the public eye."
Check out the video for "Look At Me" below and the Instagram recording of what's purportedly a KKK member making threats at X beneath that.
Source: http://www.xxlmag.com