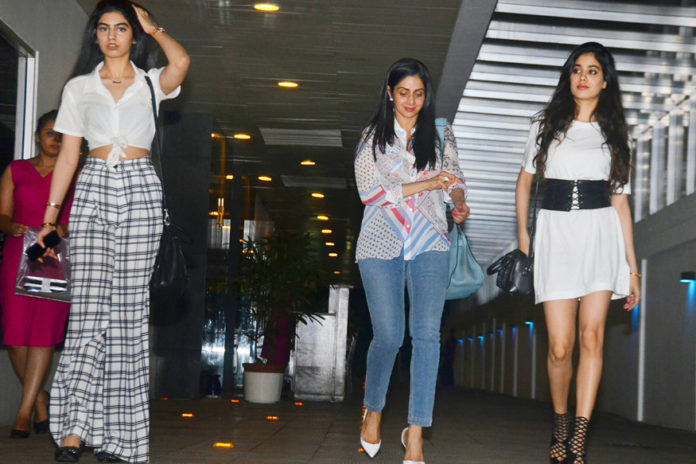 Sridevi's daughters, Jhanvi Kapoor and Khushi Kapoor are one of the favorite star kids of the town.
They are undoubtedly paparazzi's favorite, and parents Sridevi and Boney Kapoor are always asked about their whereabouts.
Sridevi whose film Mom released today has received thumbs-up from us.  And when the diva was on a promotional run for the movie, she was asked about Khushi's future plan to which Sridevi revealed saying, "Yes, Khushi says she wants to get into modelling. Pehle, she wanted to become a doctor.
Phir doctor se lawyer and now it's modelling. So, I am waiting for the shock to happen." And considering the trend that has seen many models eventually make the transition from the runway to the big screen, it will just be a small leap for the star daughter from the ramp to cinema."
Following sister Jhanvi's lead who will be making her big Bollywood debut opposite Shahid Kapoor's half brother Ishaan Khattar Khushi, Khushi is amusing her parents with her plans.
Sridevi on the same added, "Well, I take inspiration from them. They guide me and I enjoy that. They are…Aaj ka hai (They are the new generation).
They know better. They know what is in fashion. Sometimes you are in your own world. As a mother, I have other things to take.
But, I enjoy asking them and we share. Sometimes, they ask me whether it looks good or not, what to change. The same way even I…we share each other's taste."