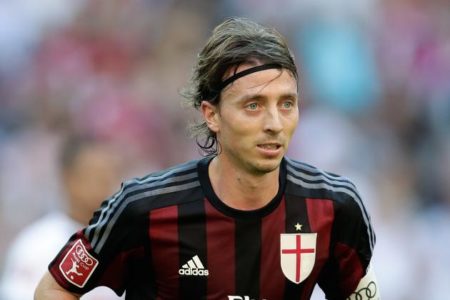 Who is Riccardo Montolivo ?
Riccardo Montolivo was born on 18 January 1985 in Milan, Italy.
He is an Italian professional footballer.
He plays as a midfielder for Serie A club Milan and internationally for the Italy national team.
A versatile and creative cone, Montolivo began his career with Atalanta in 2003 before joining Fiorentina in 2005.
He made his debut for the Italian national team in 2007 against South Africa.
He also represented the country in two FIFA Confederations Cups (2009 and 2013, winning a bronze medal in the latter edition of the tournament), as well as in the 2010 FIFA World Cup and UEFA Euro 2012, the latter where he played as a starter in the final.
He also participated in the 2008 Summer Olympics.
Quick Facts
Birthday: January 18, 1985
Birth Place: Milan, Italy
Birth Name: Riccardo Montolivo
Famous As: Riccardo Montolivo
Height: 1.82 m
Salary: 3.5 million EUR (2012)
Current teams: A.C. Milan (#18 / Midfielder), Italy national football team (Midfielder)
Children: Mariam Montolivo
Parents: Antje Montolivo, Marcello Montolivo