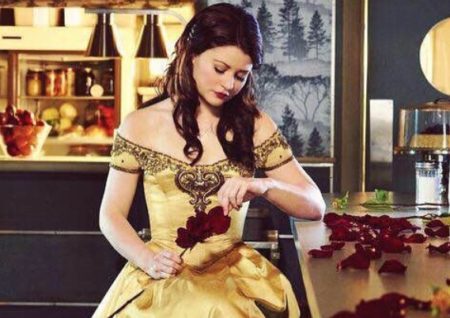 Who is Emilie de Ravin ?
# Emilie de Ravin was born on 27 December 1981 in Mount Eliza, Victoria, Australia.
# Her zodiac sign is Capricorn.
# She is an Australian actress.
# She starred as Tess Harding on Roswell (2000–2002), Claire Littleton on the ABC drama Lost (2004–2010), and as Belle on the ABC drama Once Upon a Time (2012–2018).
# De Ravin's film credits include Santa's Slay (2005), The Hills Have Eyes (2006) and Ball Don't Lie (2008).
# She starred as Emily, the heroin-addicted ex-girlfriend of Brendan Frye, in the neo-noir film Brick (2005).
# She had a cameo in Public Enemies (2009) and more recently starred in Remember Me (2010).
# De Ravin has been included on Maxim's Hot 100 list three times: in 2005 (No. 47), 2006 (No. 65), and 2008 (No. 68).
Who is Emilie de Ravin Dating ?
Eric Bilitch and Emilie de Ravin got engaged on 6th Jul 2016.
Emilie de Ravin was previously married to Josh Janowicz (2006 – 2014).
What is Emilie de Ravin Net Worth ?
We don't have any information about her estimated net worth.
Quick Facts
Birthday: December 27, 1981
Birth Place: Mount Eliza, Australia
Spouse: Josh Janowicz (m. 2003–2014)
Partner: Eric Bilitch
Children: Vera Audrey de Ravin-Bilitch
Height: 5′ 2″
Weight: 49 kg
Build: Slim
Eye Color: Blue
Hair Color: Dyed Brown
Zodiac Sign: Capricorn
Sexuality: Straight
Ethnicity: White
Nationality: Australian