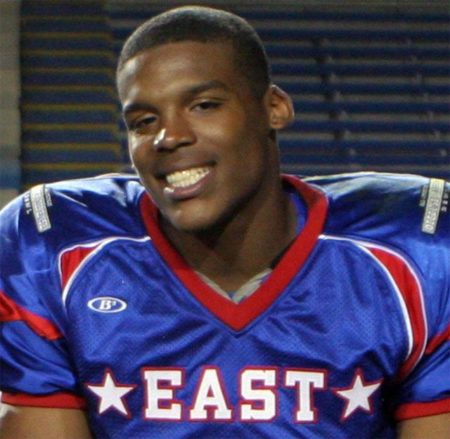 Who is Cam Newton ?
Cameron Jerrell Newton, American football quarterback, was born on May 11, 1989 in Atlanta, Georgia. He plays for the Carolina Panthers of the National Football League (NFL). In terms of college football he played at Auburn and in the 2011 NFL Draft he was drafted as the first overall pick by the Panthers. Newton is the only player in the modern era who within a one-year span become the first overall pick in an NFL draft, was awarded the Heisman Trophy and won a national championship. In the 2011 NFL he was the Rookie of the Year, in 2015 he was named to the NFL All Pro First Team and is a three-time Pro Bowler.
Newton broke all-time NFL rookie records for passing and rushing yards during his rookie year. In his first game, he became the first NFL quarterback to throw for 400 yards, and even shattered Peyton Manning's first-game record by 120 yards. Furthermore, in an NFL debut he even broke Otto Graham's 61-year-old record for passing yards by any quarterback. Moreover, in a season, Newton become the first rookie quarterback to throw for 4,000 yards. In addition to all this, he broke Steve Grogan's 35-year-old record by running for 14 touchdowns, which is more in a single season than any quarterback in NFL history.
Newton became the first quarterback in NFL history to throw for at least 30 touchdowns, 35 passing and 10 rushing in 2015. He also became the only quarterback ever, in the same game, to have 5 touchdown passes, 300 yards passing and over 100 yard. Newton ended the 2015 season by not only leading his Panthers to a 15–1 record and capturing MVP honors, but also a trip to Super Bowl 50.
Aside from American football, as a youth Newton was also a talented baseball and basketball player, but in baseball he had developed a fear of being hit by a pitch while on the basketball court he could not avoid foul trouble. At the age of 14, he stopped playing baseball and shortly into his high school career quit basketball.
Newton was involved in a car crash in Charlotte where his vehicle got flipped on December 9, 2014. Due to the accident, Newton suffered two back fractures and was even held overnight at the hospital for observation. Witnesses' claim that during the accident, the truck Newton was driving rolled over couple of times. Newton made full recovery however within 12 days.
Newton also participates in motivational speaking, in addition to his commitment to football. In the spring of 2015, Newton graduated with a degree in sociology. Newton has his own clothing line, MADE by Cam Newton which partnered with Southern department store chain Belk. Newton confirmed on his Twitter account on December 30 2015 that he and his long-time girlfriend Kia Proctor, had given birth to a son named Chosen Sebastian Newton on December 24, 2015, in Atlanta. Newton is about 6 ft. 5 inch tall and weighs about 111 kg.
Who is Cam Newton Dating ?
Shakia Proctor started dating Cam Newton on 2013.
Cam Newton has been in relationships with Rubi Rose [Model] (2017), Ciara (2011) and Angela Simmons (2011).
Quick Facts
Birthday: May 11, 1989 (age 28 years)
Birth Place: Atlanta, Georgia, United States
Birth Name: Cameron Jerrell Newton
Famous As: Cam Newton
Height: 1.96 m
Weight: 111 kg
40 yard dash time: 4.59 seconds
Partner: Kia Proctor
Children: Chosen Sebastian Newton, Sovereign-Dior Cambella Newton
Education: Westlake High School, Auburn University, University of Florida, Blinn College