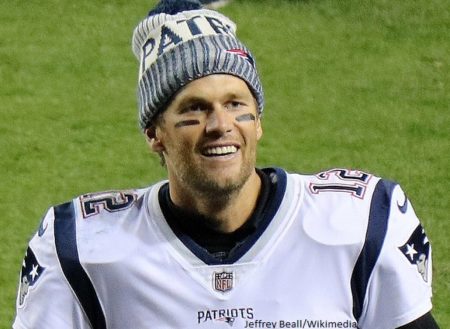 Who is Tom Brady ?
# Tom Brady was born as Thomas Edward Patrick Brady Jr. in August 3, 1977 in California, United States of America.
# Popularly known as Tom Brady in and out of the arena, Brady is also called as Thomas Brady.
# He is widely known for his skills and his athletic prowess in the football arena.
# For those football fans who want to know about his zodiac sign and brag about being the same sign as him, he is a Leo.
# Brady was destined to be a football star (if not, some other form of a sport star, but a star nonetheless).
# His parents Tom Brady Sr. and Galynn were huge fans of sports and thus the Brady juniors turned out to be quite enthusiastic of sports.
# Tom Brady Jr. was at a whole new level which he would prove in some years.
# As already covered, the Brady's had a huge following of sports.
# Tom Brady was watching football in the arenas since he was a kid. As a kid, Brady was especially inspired by Joe Montana, a great pro football star himself.
# This made Brady gain interest in football and had a dream of being a quarterback in pro football.
# These made Brady try to compete with others and constantly improve his performance which actually was the success story in the field.
# Brady was in the football and baseball team in his high school of Junipero Serra. Upon being admitted to the University of Michigan, Brady joined the football team and helped his team win the Orange Bowl. But he had also given up on his chance of trying out pro baseball when he passed up the offer in his college years.
# Brady was drafted to the New England Patriots in 2000 Draft of the NFL.
# In his first season in the Patriots, Brady played only one game as the backup quarterback.
# But 2001 season changed everything when the quarterback of the team was injured and Brady handled the quarterback position with all the strength and commitment he had for the game.
# He proved himself as a strong player with leadership abilities and had an impressive record. He even received a MVP award for the game with St. Louis Ramps in the Super Bowl XXXVI.
# In the 2002 season though, Brady played the entire season with a injured shoulder.
# 2003 was a great year for Brady with incredible stats and he led the team to another victory at the Super Bowl XXXVIII where he played against the Carolina Panthers.
# He then won his second MVP. The team with Brady won again in 2004.
# The next years were great but in 2008, Brady sustained a knee injury and had to undergo extensive surgeries and proper rehabilitation. He had to sit out the game and only entered the game in 2010.
# With that, Brady took the team to the finals of Super Bowl XLVI but was beaten by their rivals New York Giants. His wife Gisele Bundchen wanted the victory but had to be disappointed.
# With his incredible stats and efforts that he made in the Patriots, he is generally compared to the great quarterback Joe Montana.
# Who said that dreams could not be achieved? Brady followed his dreams and became one of the most successful football players.
# Tom has been subject to some controversies in the game during his career (Who hasn't?) but he always strives to perform better. This makes him a great player and a weapon in the arsenal of New England Patriots.
Who is Tom Brady Dating ?
Tom Brady was dating Bridge Moynahan for a long time when they split in the late 2006.
This was nearly like a divorce since the couple was together for a long time and Brady has a son with her, named John Edward Thomas Moynahan.
Brady later married Gisele Bundchen who is a model by profession in 2009.
They also have a son together named as Benjamin. Thus, Brady has two kids as of now with two different women.
Quick Facts
Birthday: August 3, 1977 (age 40 years)
Birth Place: San Mateo, California, United States
Birth Name: Thomas Edward Patrick Brady Jr.
Famous As: Tom Brady
Height: 1.93 m
Spouse: Gisele Bündchen (m. 2009), Bridge Moynahan (separated in 2006)
School: University of Michigan
Children: Vivian Lake Brady, Benjamin Brady, John Edward Thomas Moynahan
Did you know: Tom Brady ranks third among NFL passing touchdowns leaders (488 touchdowns).