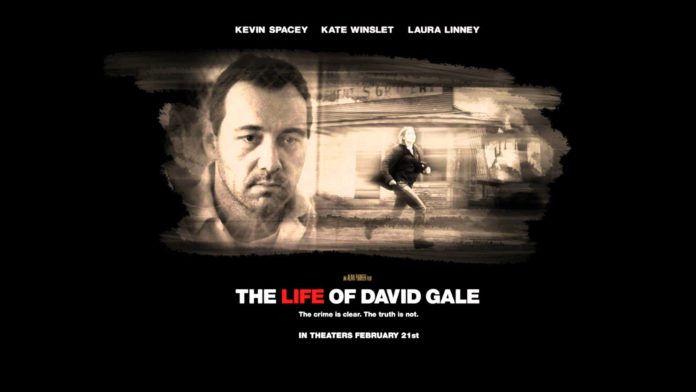 15 Incredible Movies That Will Blow Your Mind !
Hide and Seek 

(2005)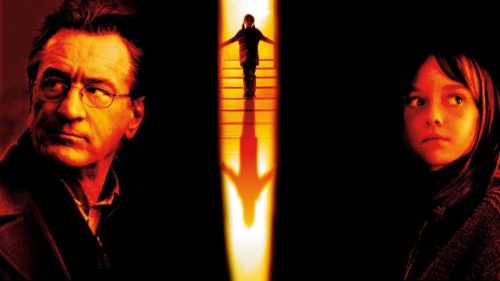 Following the suicide of his wife (Amy Irving), psychologist David Callaway (Robert De Niro) decides to take his daughter, Emily (Dakota Fanning), away from New York City to a house in the country for a fresh start.
Unfortunately, Emily is too grief-stricken to really appreciate her new surroundings, and she hasn't made any friends, save Charlie, who is imaginary. When Charlie begins to harbor resentment toward David, an already bad situation gets worse.
Initial release: January 28, 2005 (USA)
Music composed by: John Ottman
Box office: 122.7 million USD
Awards:MTV Movie Award for Best Scared-As-Shit Performance
The Double 

(2013)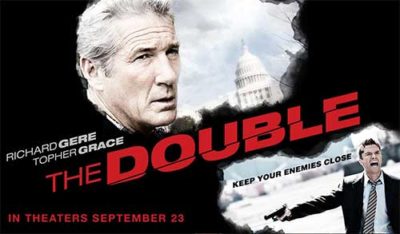 An awkward office drone (Jesse Eisenberg) becomes increasingly unhinged after a charismatic and confident look-alike takes a job at his workplace and seduces the woman (Mia Wasikowska) he desires.
Initial release: February 22, 2014 (Glasgow)
Cinematography: Erik Wilson
Box office: 1.7 million USD
Story by: Fyodor Dostoyevsky
Donnie Darko 

(2001)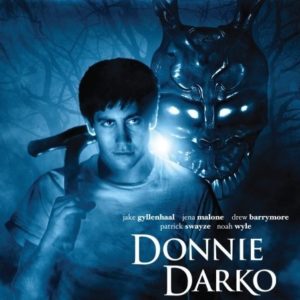 A troubled teenager is plagued by visions of a man in a large rabbit suit who manipulates him to commit a series of crimes, after he narrowly escapes a bizarre accident.
Director:  Richard Kelly
Writer:  Richard Kelly
Stars:  Jake Gyllenhaal, Jena Malone, Mary McDonnell
The Machinist  

(2004)
Factory worker Trevor Reznik (Christian Bale) suffers from insomnia so severe that his condition has taken its toll on his weight and his mental health.
When Trevor unintentionally causes an on-the-job accident that horribly injures a coworker (Michael Ironside), he begins to become even more troubled.
Despite a relationship with Stevie (Jennifer Jason Leigh), a pretty prostitute, Trevor descends further into paranoia, blaming his problems on an enigmatic figure named Ivan (John Sharian).
Initial release: January 18, 2004 (USA)
Box office: 8.2 million USD
Nominations:Goya Award for Best Original Score, European Film Awards Audience Award for Best Actor
The Box 

(2009)
A suburban couple, Norma (Cameron Diaz) and Arthur (James Marsden), face a moral dilemma when they receive a gift that bears irrevocable consequences. With the press of a button, their simple wooden box will bestow $1 million; however, a stranger somewhere else will die, at the same time. The box will be theirs for only 24 hours, and as time ticks away, Norma and Arthur confront the depth of their humanity as they consider their choices.
Initial release: November 6, 2009 (USA)
Story by: Richard Matheson
Screenplay: Richard Kelly
Box office: 33.3 million USD
Being John Malkovich 

(1999)
In this quirky cult-favorite comedy, unemployed New York City puppeteer Craig Schwartz (John Cusack) reluctantly takes a temp job as a filing clerk for the eccentric Dr. Lester (Orson Bean).
While at work, Craig discovers a portal that leads into the mind of renowned actor John Malkovich.
When he le
ts his attractive co-worker Maxine (Catherine Keener) in on the secret, they begin both an unusual business scheme and an odd relationship that involves Craig's restless wife, Lotte (Cameron Diaz).
Initial release: October 29, 1999 (USA)
Screenplay: Charlie Kaufman
Wicker Park 

(2004)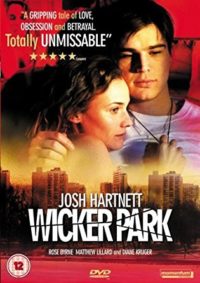 Matthew (Josh Hartnett) and Lisa (Diane Kruger) are madly in love.
But one day Lisa vanishes. Simon enters an emotional tailspin and begins an obsessive quest to find her.
Years later, Simon's life has stabilized, and he's in a new relationship. Then he thinks he sees Lisa in a restaurant and fixates on her all over again.
He snoops around and eventually tracks down the mysterious woman from the restaurant. Her name is Alex (Rose Byrne), but she acts just like Lisa.
Initial release: September 3, 2004 (USA)
Based on: L'Appartement; by Gilles Mimouni
Featured song: The Scientist
Music composed by: Cliff Martinez
Spider 

(2002)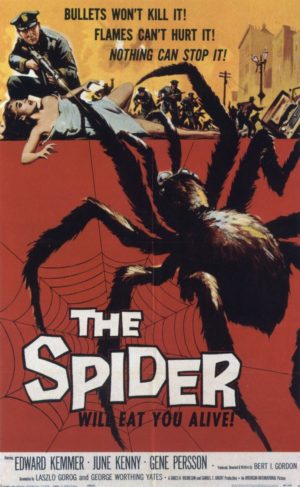 Released after decades in a sanitarium, schizophrenic Dennis "Spider" Cleg (Ralph Fiennes) moves into Mrs. Wilkinson's (Lynn Redgrave) halfway house and befriends a fellow resident, Terrence (John Neville), before retreating into personal writing and the darkness of his own haunted mind. Spider stru
ggles to decipher murky memories of a childhood trauma involving his abusive father (Gabriel Byrne), his murdered mother (Miranda Richardson), and a prostitute who may have replaced her.
Initial release: September 13, 2002 (Portugal)
Director: David Cronenberg
Music composed by: Howard Shore
Story by: Patrick McGrath
Enemy 

(2013)
Enemy is a 2013 psychological thriller film directed by Denis Villeneuve, produced by M.S. Faura and Niv Fichman and written by Javier Gullón, loosely adapted from José Saramago's 2002 novel The Double.
The film stars Jake Gyllenhaal, Mélanie Laurent and Sarah Gadon and revolves around two men who are physically identical.
It is also internationally co-produced by production companies from Spain and Canada.
Initial release: February 28, 2014 (Spain)
Director: Denis Villeneuve
Cinematography: Nicolas Bolduc
Box office: 3.4 million USD
Filth 

(2013)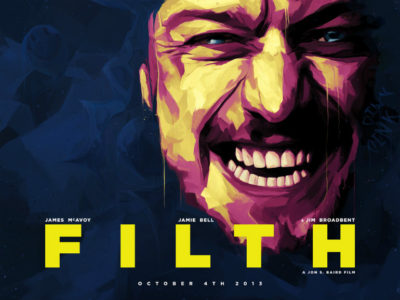 A drug-addled, manipulative misanthrope (James McAvoy) begins to experience increasingly severe hallucinations as he tries to solve the murder of a Japanese student.
Initial release: September 27, 2013 (Scotland)
Box office: 9.1 million USD
Triangle 

(2009)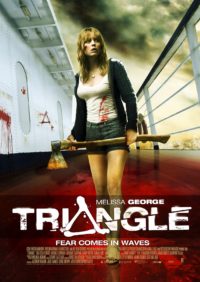 The story revolves around the passengers of a yachting trip in the Atlantic Ocean who, when struck by mysterious weather conditions, jump to another ship only to experience greater havoc on the open seas.
Initial release: August 27, 2009
Director: Christopher Smith
Box office: $1.3–1.6 million
Screenplay: Christopher Smith
Budget: 12 million USD
Identity 

(2003)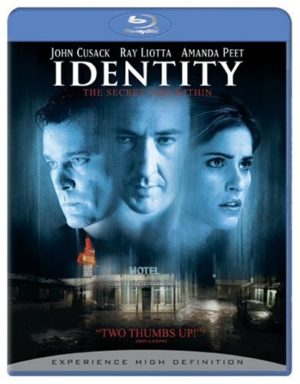 When a vicious storm breaks out in the Nevada desert, 10 people seek refuge in an isolated motel.
At the same time, a serial killer (Pruitt Taylor Vince) under the care of psychiatrist Doctor Mallick (Alfred Molina) — who has just found the killer's revealing journal — awaits execution for murdering a group of motel guests.
When the storm-stranded travelers realize they are being killed off one by one, limo driver Ed Dakota (John Cusack) bids to stay alive and reveal the murderer's identity.
Initial release: April 25, 2003 (USA)
Screenplay: Michael Cooney
Box office: 90.2 million USD
Producer: Cathy Konrad
Tideland 

(2005)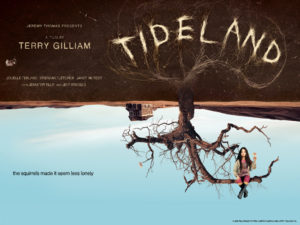 Little Jeliza-Rose (Jodelle Ferland) has a very warped childhood. Her parents (Jeff Bridges, Jennifer Tilly) are both drug addicts, and one of her daily chores is to prepare their syringes. After her mother dies of an overdose, her father, Noah, takes her away to his childhood home, but his own moth
er has passed away and the house is decaying. Then Noah overdoses, and while his body rots in his chair, Jeliza-Rose meets a taxidermist and her unstable brother.
Initial release: March 30, 2006 (Netherlands)
Story by: Mitch Cullin
Inland Empire 

(2006)
Nikki (Laura Dern), an actress, takes on a role in a new film, and because her husband (Peter J.
Lucas) is very jealous, her co-star Devon (Justin Theroux) gets a warning not to make any romantic overtures — especially since the characters they play are having an affair.
Both actors learn that the 
project is a remake of an unfinished film in which the stars were murdered.
Initial release: December 6, 2006 (USA)
Box office: 4 million USD
Languages: English, Polish
The Life of David Gale 

(2003)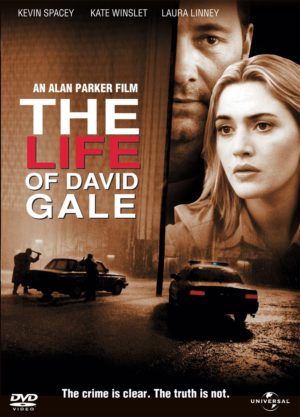 David Gale (Kevin Spacey) is a man who has tried hard to live by his principles but in a bizarre twist of fate, this devoted father, popular professor and respected death penalty opponent finds himself on Death Row for the rape and murder of fellow activist Constance Hallaway (Laura Linney).
With on
ly three days before his scheduled execution, Gale agrees to give reporter Bitsey Bloom (Kate Winslet) the exclusive interview she's been chasing.
Initial release:
February 18, 2003 (USA)
Screenplay:
Charles Randolph
Producers: 
Alan Parker, Nicolas Cage