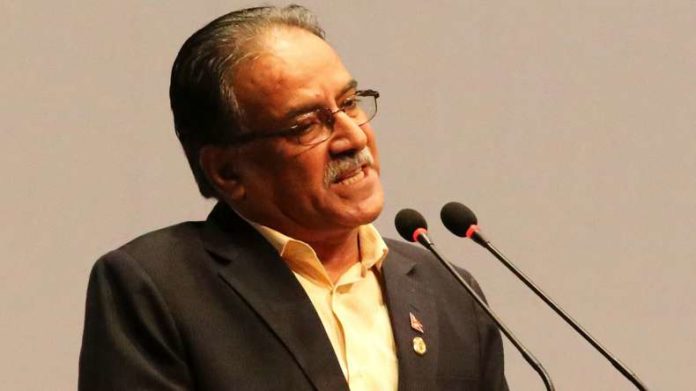 Who is Prachanda ?
# Pushpa Kamal Dahal is also known as Prachanda.
# He was born on 11 December 1954 in Dhikur Pokhari, Nepal.
# He is a Nepalese politician and the chairman of the Communist Party of Nepal (Maoist-Centre).
# He was the Prime Minister of Nepal from 2008 to 2009 and again from 2016 to 2017.
# Dahal led the CPN (M) as it launched a communist insurgency on 13 February 1996.
# In the ensuing civil war, more than 17,000 Nepalese died. Ultimately elections were held in 2008 and the CPN (M) emerged as the strongest party.
# The Constituent Assembly of Nepal elected Dahal as Prime Minister in August 2008.
# He resigned as Prime Minister on 4 May 2009 after his attempt to sack the army chief, General Rookmangud Katawal, was opposed by President Ram Baran Yadav.
# Dahal is also widely known by his nom de guerre "Prachanda", a name he went by during his guerrilla days.
# In Nepali and some other Indo-Aryan languages, the word Prachanda is an adjective that translates to "fierce".
Prachanda's only son dies
due to heart failure
Nepal's former prime minister and CPN (Maoist-Centre) chief Prachanda's only son Prakash Dahal died on Sunday due to heart failure, according to hospital sources.
Prakash, who was in his mid-thirties, was rushed to the Thapathali-based Norvic International Hospital early this morning, where he was pronounced dead, hospital sources said.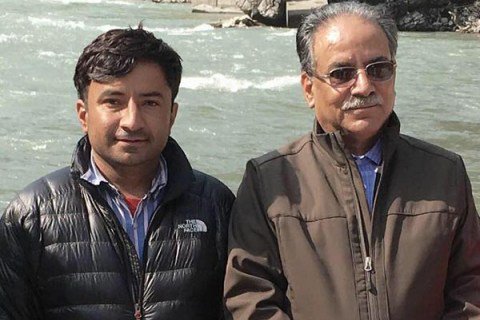 He died due to heart failure, they said.
The sources close to the Maoist party chief also confirmed Prakash's death.
Prakash was secretary to his father Prachanda and also central member of CPN (Maoist-Centre).
Prachanda has left for Kathmandu from Jhapa, where he was attending election campaign for the upcoming elections.
The news of Prakash's death comes two weeks before the first phase of provincial and parliamentary elections.
Prakash's wife Bina Dahal is also contesting election for the Parliament from Kanchanpur district.
Besides Prakash, Prachanda has three daughters.
Quick Facts
Real Name: Pushpa Kamal Dahal
Nickname: Prachanda
Profession: Politician
Party: Communist Party of Nepal (Maoist-Centre)
Prachanda's Height : 173 cm,  1.73 m, 5' 8"
Prachanda's Weight: 80 kg, 176 lbs
Eye Colour: Black
Hair Colour: White
Date of Birth: 11 December 1954
Age (as in 2016): 61 Years
Birth Place: Dhikur Pokhari, Kaski District, Nepal
Zodiac sign/Sun sign: Sagittarius
Nationality: Nepalese
Hometown: Chitwan District, Nepal
School: Not Known
College: Institute of Agriculture and Animal Science (IAAS), Rampur, Chitwan
Educational Qualifications: Bachelor in Agriculture and Animal Science
Father: Muktiram Dahal
Mother: Bhawani Dahal
Brothers: Not Known
Sisters: Not Known
Religion: Hindu
Hobbies: Reading
Favourite Drink: Blue Label whisky
Marital Status: Married
Affairs/Girlfriends: N/A
Wife: Sita Dahal
Prachanda's Net Worth: Not Known
Prachanda Vs KP Oli Dohori in parliament
Prachand's Political Journey Timeline:
1972: Started his political career with Pushpal.
1975: Formed a Marxist
1978: Joined CPN (Fourth Convention)
1980: Elected as Chitwan District Committee member.
1982: Became the member of Regional Bureau and general secretary of All Nepal Youth Association.
1984: Became the president of All Nepal Youth Association.
1985: Became the central member of CPN (Masal)'s 5th General Convention. Shortly afterwards, he became the party's politburo member.
1986: Separated from Mohan Baidya 'Kiran' after the party split.
1990: Became the general secretary of the party. enter) in 1992 and general secretary of CPN (Maoist) in 1995.
1996: Led the armed revolution and became the supreme commander of the People's Liberation Army.
2006: Ended his 25 year underground life, and became public at Baluwatar
2008: Became the Prime Minister of Nepal on 18 August till 25 May 2009. Same year,
he won from Kathmandu-10 and Rolpa-2.
2016: He became the 39th Prime Minister of Nepal.