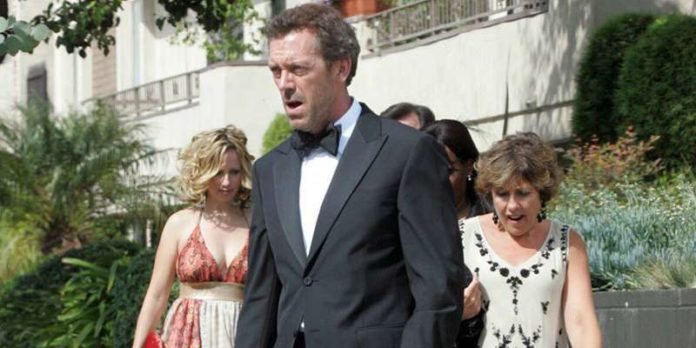 James Hugh Calum Laurie is a British actor, writer, director, musician, singer, and comedian. Best known as one-half of an English comedy double act Fry and Laurie. Hugh was listed in The Guinness World Record for highest-paid actor in TV series and most watched leading man on TV in 2011.
Actor Hugh got married to theater administrator Joanne Green in 1989. Even though they have spent more than 28 years of their married life together, their journey has not been easy. They were even in a state of getting a divorce.
Stick with us, to know about Hugh's married life and divorce rumors.
Hugh and Jo Green married after the birth Charles
Hugh met Green in the 1980s through a mutual friend and the couple instantly started dating each other. Though the couple was not married, by 1988, Green was pregnant. In the end of the year, the couple welcomed their first baby, Charles Archibald Laurie.
After the success of their affair and birth of Charles, Hugh married his long-term wife Joanne in June of 1989 in the church in Oxford, England. This loving couple built their marriage again and is still together till date.
Hugh Laurie with Jo Green during their early days
Source: Accidental Sexiness
Later on, Hugh and Joanne gave birth to their second child Wiliam Albert Laurie in Jan 1991. In 1993, the couple gave birth to their third child Rebecca Augusta Laurie. Coming from the acting background, All of Hugh's children are engaged in the same field.
Hugh Lurie and Jo Green Lived Separately
Hugh Laurie used to live with his wife and three children until in he started working on his TV series House. It was for the 'House' that Hugh moved to Los Angeles while Jo decided to stay at their home in North London with their kids.
Video: George Clooney and Hugh Laurie Revive 'E.R.' and 'House' Doctors on 'Jimmy Kimmel Live'
For the professional reason, the Hugh and his wife Green had to stay apart from her husband for about eight years.
Hugh Laurie and Jo Green's Actual Problem
The main reason behind their devastated marriage was Hugh's tight-scheduled career and long-distance.
For almost nine months of each year, Hugh could not get to see his family. This separation was creating a lot of problems in Hugh and Jo's married life.
In order to cease this problem, Hugh even decided to move his whole family to Los Angeles in 2008. But, due to some unknown reasons, this plan got canceled. And later in 2012, Hugh moved back to the capital and reunited with his wife and kids.
Hugh and Jo during their holiday in Marbella after their reunion
Source: Daily Mail
Did Hugh Laurie Have an extra-marital affair?
During the 8 years of living apart, Hugh was fully loyal to his wife. He was never rumored to have had any affair or girlfriend. He seems to be one of the rare breeds of celebrities who value their marriage. That is the reason behind the unconditional love that he has for his wife. Thus, he never did anything shallow.
This loving couple has survived a long-distance relationship. We seriously do believe that there's nothing that can separate them now. We hope they stay together forever.