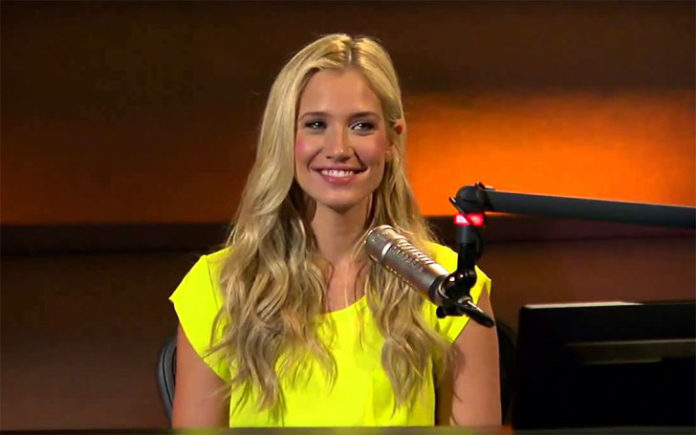 Famous American Sports Reporter and Television Host Kristine Leahy fan followings are growing rapidly. She is mostly known for hosting NBC's American Ninja Warrior. Do you wanna know more about her personal life ? Then stick with us, we will disclose something interesting story of her personal life.
These days rumors are like wildfire because of access and active involvement of people in different social media. Recently a rumor of her date with her co-star was viral in different social media. So, I am trying to uncover those facts which might be interesting for you.
Relation of Kristine Leahy's  with Aaron Hines
Kristine Leahy and her co-star Colin Cowherd were spotted enjoying the vacation together does this indicate something ?  Though she has stated that having that chemistry is so hard and her relation with Colin Cowherd is authentic, we can pretty much guess she was talking about her hosting relation. So readers you find it yourself whether the couple in love or they are good friends only.
A few months ago Kristine Leahy and Aaron Hines were seen together, were they dating ? Aaron Hines is Professional Personal Trainer and Instructor at Cycle House. He also made a special appearance in the series, Hollywood Cycle.
Kristine Leahy and Aaron Hines were found sharing the beautiful pictures of the couple on Instagram. Sexy lady Kristine needed a personal fitness trainer so that she could maintain her beautiful body figure and look stunning. Who knew she would be dating Aaron?
She has clearly captioned a picture, Thank you love for an amazing weekend, so it brings us no confusion that these couples were dating and spent a lot of time together.
However, not only her dating rumors her pregnancy rumors were growing very rapidly but that turned out to be false. We didn't hear anything about that from Kristine.
Not only the host of American Ninja Warrior, Kristine, shared the pictures of the couple frequently, Aaron also shared some of his moments where we can be sure that the couple was very happy dating each other. Aaron also shared his birthday picture and captioned it, 'Thank you for making it iconic'.
If you take a closer look in the comment section,  you will see their friends and fans congratulating them for being a happy couple. Isn't this love? See it for yourselves.
Now, coming back to her recent rumor about dating co-star Colin Cowherd, we don't have any clue as she has not broken up with Aaron. We cannot say anything until this beautiful Kristine will say all by herself.