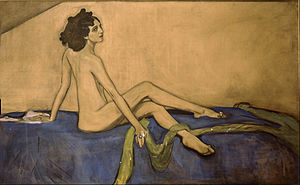 Boléro is a one-movement orchestral piece by the French composer Maurice Ravel (1875–1937).
Originally composed as a ballet commissioned by Russian actress and dancer Ida Rubinstein, the piece, which premiered in 1928, is Ravel's most famous musical composition.
Before Boléro, Ravel had composed large-scale ballets (such as Daphnis et Chloé, composed for the Ballets Russes 1909–1912), suites for the ballet (such as the second orchestral version of Ma mère l'oye, 1912), and one-movement dance pieces (such as La valse, 1906–1920).
Apart from such compositions intended for a staged dance performance, Ravel had demonstrated an interest in composing re-styled dances, from his earliest successes—the 1895 Menuet and the 1899 Pavane—to his more mature works like Le tombeau de Couperin, which takes the format of a dance suite.