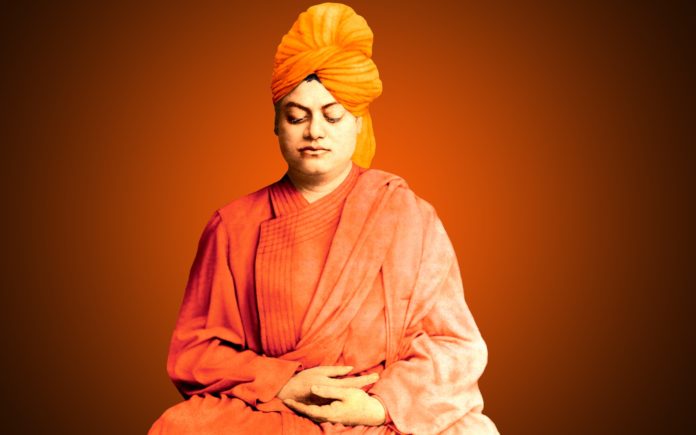 Who is Swami Vivekananda ?
# Narendranath Datta is popularly known as Swami Vivekananda these days.
# He was born on 12 January 1863 and died on 4 July 1902.
# He was an Indian Hindu monk, a chief disciple of the 19th-century Indian mystic Ramakrishna.
# He was a key figure in the introduction of the Indian philosophies of Vedanta and Yoga to the Western world and is credited with raising interfaith awareness, bringing Hinduism to the status of a major world religion during the late 19th century.
# He was a major force in the revival of Hinduism in India, and contributed to the concept of nationalism in colonial India.
# Vivekananda founded the Ramakrishna Math and the Ramakrishna Mission.
# He is perhaps best known for his speech which began, "Sisters and brothers of America …," in which he introduced Hinduism at the Parliament of the World's Religions in Chicago in 1893.
# Born into an aristocratic Bengali family of Calcutta, Vivekananda was inclined towards spirituality.
# He was influenced by his guru, Ramakrishna, from whom he learnt that all living beings were an embodiment of the divine self; therefore, service to God could be rendered by service to mankind.
# After Ramakrishna's death, Vivekananda toured the Indian subcontinent extensively and acquired first-hand knowledge of the conditions prevailing in British India.
# He later travelled to the United States, representing India at the 1893 Parliament of the World's Religions.
# Vivekananda conducted hundreds of public and private lectures and classes, disseminating tenets of Hindu philosophy in the United States, England and Europe.
# In India, Vivekananda is regarded as a patriotic saint and his birthday is celebrated there as National Youth Day.
Why Swami Vivekananda was famous?
Some people think that Swami Vivekananda is famous because of His oratory skills, strong memory, ready wit, spirituality and smart and handsome personality.
No my dear, that is not the complete truth.
There are many orators- handsome and spiritual too.
Throughout life they keep trying to impress others and to some extent they are successful in gathering crowd around them for some period but everything dies with their deaths.
Swami ji became so popular because He had surrendered completely at the feet of His Guru, Sri Ramakrishna Paramhamsa.
He had become completely unselfish, and sacrificed all bodily as well as heavenly comforts in love of His Guru for the cause of His Guru.
When you are free from all fetters and worldly cravings then divinity works through you.
Divinity's glow is like thousands of the suns.
When it starts glowing through you, you become popular and famous like a sun, wherever you go people are amazed and look at you for the guidance and blessings.