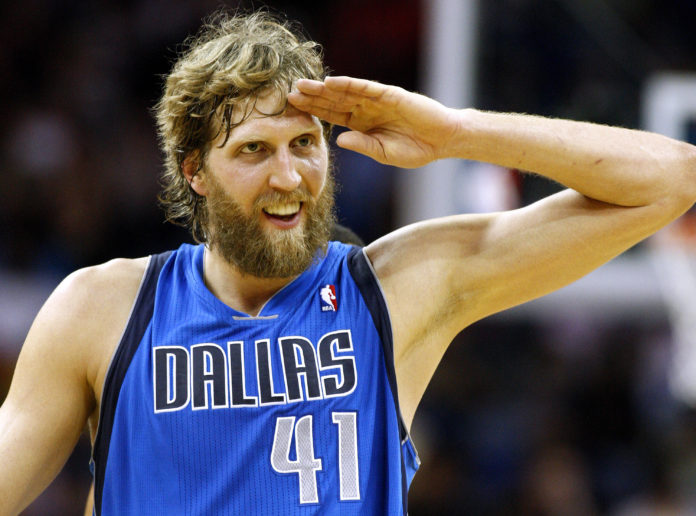 Who is Dirk

Nowitzki ?
# Dirk Werner Nowitzki is popular as Dirk Nowitzki.
# He is a German professional basketball player for the Dallas Mavericks of the National Basketball Association.
# He was born on June 19, 1978 in Würzburg, Bavaria, Germany.
# His birth sign is Gemini.
# He was born to Helga and Jorg-Werner's.
# He is the second child, being preceded by a sister named Silke.
# He started playing basketball relatively late in life, at age 13.
# He was first noticed in NBA scouts in 1998, when he scored 33 points to lead a team of international players age 19 and under to an upset victory over a collection of American high school stars in an exhibition game in San Antonio, Texas.
# His height is 7 feet which proved very fruitful to him.
Who is Dirk

Nowitzki Dating ?
Jessica Olsson and Dirk Nowitzki have been married for 5 years since 20th Jul 2012.
Dirk Nowitzki has been engaged to Crystal Taylor (2009).
Quick Facts
Weight: 245 lbs (111 kg)
Height: 7′ (2.

13 m

)
Feet Size: 15.5 (US)
Star Sign: Gemini
Net Worth: $120 million
Hair Color: Blonde
Eye Color: Grey
Date Of Birth: 19 June 1978
Birth Place: Würzburg, Bavaria, Germany
Birth Name: Dirk Werner Nowitzki
Nicknames: Dirk Diggler, Dunking Deutschman, The German Wunderkind, The Germanator
Nationality: German
Race/Ethnicity: German, some Polish
Spouse: Jessica Olsson (m. 2012-)
Parents: Jorg Werner, Helga Nowitzki
Children: Malaika Nowitzki, Max Nowitzki