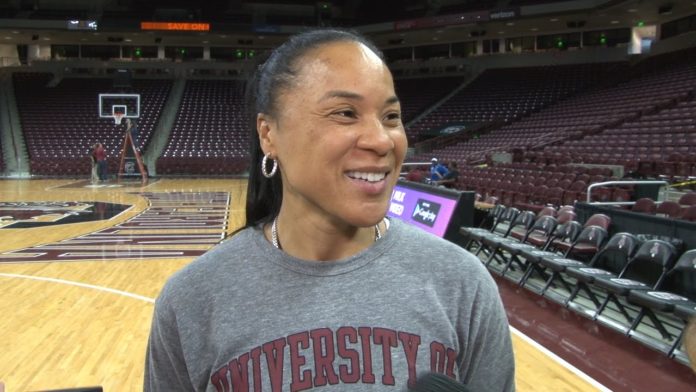 Who is Dawn Staley ?
# Dawn Michelle Staley is popular as Dawn Staley.
# She was born on May 4, 1970 in Philadelphia, Pennsylvania.
# Her Birth Sign is Taurus.
# She is an American basketball Hall of Fame player and coach.
# Staley is a three-time Olympic gold medalist, and was elected to carry the United States flag at the opening ceremony of the 2004 Summer Olympics.
# After playing point guard for the University of Virginia under Debbie Ryan, and winning the gold medal at the 1996 Summer Olympics, she went to play professionally in the American Basketball League and the WNBA.
# In 2011, Staley was voted in by fans as one of the Top 15 players in WNBA history. She was elected to the Naismith Memorial Basketball Hall of Fame in 2013.
# She gave her 1996 Olympic gold medal to her mother, Estelle, whom she cites as the biggest influence in her life.
# In 1996, she appeared in an episode of the television series Martin, along with other members of the 1996 USA Basketball Women's Team: Rebecca Lobo, Sheryl Swoopes, and Teresa Edwards.
# July 24, 2004, was proclaimed Dawn Staley Day in Charlotte by Mayor Pat McCrory.
# In 2006, she became part owner of a company proposing a casino in South Philadelphia. The casino never opened, due to community opposition and financial difficulties.
Who is Dawn Staley Dating ?
Dawn Staley is possibly a single.
We don't have any information about her past affairs & dating.
What is Dawn Staley Net Worth ?
We don't have any information about her estimated net worth.
Quick Facts
Birthday: May 4, 1970 (age 47)
Birth Place: Philadelphia, Pennsylvania, United States
Birth Name: Dawn Michelle Staley
Famous As: Dawn Staley
Height: 1.68 m
Weight: 134lbs (61 kg)
Zodiac Sign: Taurus
Nationality: American
Education: University of Virginia
Olympic medals: Basketball at the 2004 Summer Olympics – Women's tournament, MORE
Parents: Estelle Staley, Clarence Staley