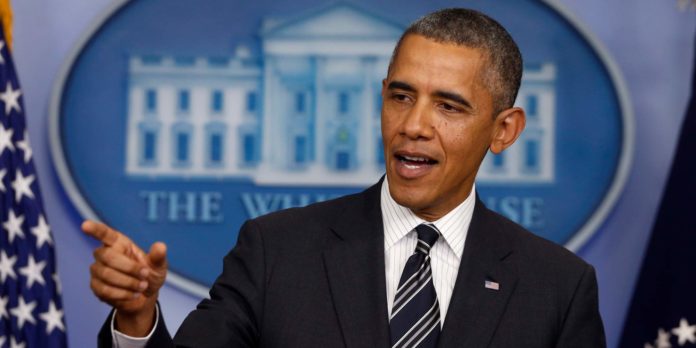 Barack Obama Biography & Wiki Facts
Barack Obama Birth Place, Date of Birth & Age
Complete Name: Barack Hussein Obama, Jr.
Nicknames: No Drama Obama, Barry, The One, Bama
Date of Birth: August 04, 1961
Age (2016): 55
Birthplace: Honolulu, Hawaii, U.S.
Occupation: Lawyer, Politician
Political Party: Democratic
Zodiac Sign: Leo
Eye Color: Dark brown
Hair Color: Black
Barack Obama Family Details:
Father: Barack Obama, Sr.
Mother: Ann Dunham
Siblings: Maya Soetoro-Ng, Malik Abongo Obama, George Obama, Bernard Obama, David Ndesandjo, Abo Obama, Auma Obama
Spouse: Michelle Obama (m. 1992)
Children: Natasha Obama, Malia Ann Obama
Barack Obama Height, Weight & Body Measurements:
Height in Feet: 6′ 1″
Height in Centimeters: 185 cm
Weight in Kilograms: 81 Kg
Weight in Pounds: 180 Pounds
Feet/ Shoe Size: 12 (US)
Body Measurements: N/a
Barack Obama Interesting Facts:
Obama is left-handed
If he were not a politician, Obama would like to become an architect.
The favorite movies of Obama are Casablanca and One Flew Over the Cuckoo's Nest.
According to Obama, his worst habit is continuously checking his BlackBerry.
Some Quotes Of Barack Obama:
Change will not come if we wait for some other person or some other time. We are the ones we've been waiting for. We are the change that we seek.
Understand, our police officers put their lives on the line for us every single day. They've got a tough job to do to maintain public safety and hold accountable those who break the law.
Now, as a nation, we don't promise equal outcomes, but we were founded on the idea everybody should have an equal opportunity to succeed. No matter who you are, what you look like, where you come from, you can make it. That's an essential promise of America. Where you start should not determine where you end up.
If you're walking down the right path and you're willing to keep walking, eventually you'll make progress.
We, the People, recognize that we have responsibilities as well as rights; that our destinies are bound together; that a freedom which only asks what's in it for me, a freedom without a commitment to others, a freedom without love or charity or duty or patriotism, is unworthy of our founding ideals, and those who died in their defense.
The future rewards those who press on. I don't have time to feel sorry for myself. I don't have time to complain. I'm going to press on.